"Poetry is the art of using language to transcend language." ~ Laurence Overmire
Featured Poems by Laurence Overmire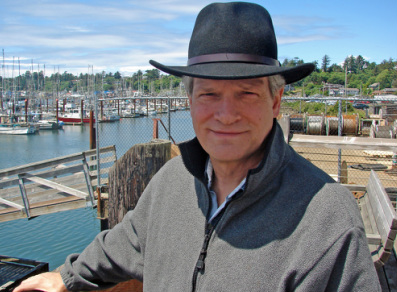 And God Made a Poet

There need to be people
toiling on this Earth
for whom money
is not the Bottom Line

those who see
beyond the moment
the temporal frame of inhuman
nature

to lead with voice of spirit
and marked uncommon sense.
---
---
Refugee

To have no home, no place to go
To be without—identity.
Nothing in a pocket
Shoes without laces
Time too much to spend
Grieving.
Hope hanging from a noose
In a stranger's hand.
How does the heart survive?
Where is the kindness that kills
The dogs of war?
The fires have burned to ashes
Smoke rises without flame
And the future is a long, cold night lost
Alone.

---
The Iranian Girl

There's a hole in the ground
A moving of earth, now made
A sad depression
Where once she played in
Puddle-rain
Splashing with the joy that comes
From child-like feet

The sound is still here
In the air, the breeze yet carrying
The secret laughter
That haunts the waking hours of those
Who've lost the way

How vain to think that
Memory can be erased

All will remember
No one escapes

I wonder if she saw it
The moment before
Her hair still flying free
The metal catching that last
Pure glint of sun

Did she hear the explosion
That made no sense
Did she feel
Her body come apart
And fall like dust, too soon

Does anyone ask
Whatever she felt, whatever she dreamed
Her dreaming time is gone
And no lofty word of God or
Glory will ever make it right

Dare to listen and you will
Hear her
Dare to open your eyes and see

The Iranian girl
No different
Like you, like me.

---
Lightning from the Genome

99.9% of our genes are identical
One human to another
What difference, then is
One-tenth of a percent?
Enough to justify
Hatred, jealousy, contempt
War?
In one-tenth of one percent
We lodge the miseries of the
Human race
Proclaim ourselves better and
Best
Conquer and divide
According to divine rights of
A primitive mind
Unable to distinguish
Reason from insanity.

---
Quasimodo: To Esmeralda

i look into your eyes
and see the stars
burning quietly
in a midnight sky
and i am humbled.

what hope have i
to rein a winged foal
dancing on a distant cloud
chasing the maiden moon
as she scatters her delicate veils
of luminous dust
on the sleeping earth below.

what hope have i
disfigured and alone
who cannot speak
and dare not feel
you will not hear the silent voice
that clamors in a trembling heart
you will not see the man
imprisoned by the shackles of his soul
you will not know
me.

i leave you now
lift your voice to the wind
run free
brave spirit
we never meet again
but i have looked into your eyes
and glimpsed the stars.

---
Online Poetry of Laurence Overmire