New book by Laurence Overmire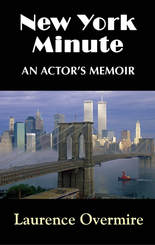 "New York Minute: An Actor's Memoir"
Life passes us by in a New York Minute.
Change, for better or worse, is happening with every moment that slips away."Brilliantly expresses the exhilaration, fear, heartache, joy, disappointment, laughter and, ultimately, the loss of innocence that actors undergo when moving to New York to embark on a life in the theatre." Dea Lawrence, CMO, Variety

ORDER NOW!
---
Also available:
---
Biography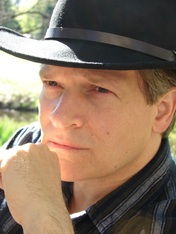 LAURENCE OVERMIRE has had a multi-faceted career as poet, actor, director, educator and genealogist. He is the author of 11 books. Scottish historian Ted Cowan calls him "a true sennachie, a genealogist as well as a bard." The Sennachies or Bards of ancient Celtic tradition were high status members of the clan, voices of conscience, who knew the legends, the history and the ancestral lineages. They were the intellectual leaders who united the people in story and song, arguing for justice and illuminating the difference between right and wrong. Laurence is a modern-day inheritor of that ancient tradition.Born in Rochester, New York, and raised in Xenia, Ohio; Huntington Woods, Michigan; and Lorain, Ohio; Laurence has since lived in Manhattan, Brooklyn, Los Angeles, Minnesota, Virginia, Delaware, Pennsylvania, Alaska and Oregon at various times in his life. He graduated as salutatorian of Marion L. Steele High School in Amherst, Ohio, and as valedictorian of Muskingum University, Ohio, with a B.A. in theatre and a B.S. in psychology (4.0 GPA). He was awarded a Bush Fellowship to attend the University of Minnesota, where he earned his M.F.A. in theatre arts, again graduating with a 4.0 GPA.THEATRE, FILM AND TELEVISION

Overmire won a second Bush Fellowship to become a professional actor with the world-renowned Guthrie Theater in Minneapolis where he worked with such prominent directors as
Alan Schneider
,
Richard Foreman
, Garland Wright and
Liviu Ciulei
, as well as actors Val Kilmer, Patti LuPone, Boyd Gaines and Frances Conroy. He then went on to a successful career on stage, film and television in New York, Hollywood and points-in-between including the Broadway production of
Amadeus
directed by
Sir Peter Hall
and starring Frank Langella, Mark Hamill and Mary Elizabeth Mastrantonio, the network television soap operas All My Children, Another World, As the World Turns, One Life to Live , and Loving,
Joseph Papp
's New York Shakespeare Festival,
Charles Busch
's zany Off-Broadway hits Vampire Lesbians of Sodom and Psycho Beach Party, Equity Library Theatre,
Roy Brocksmith
's California Cottage Theater, The Nashville Institute of the Arts (now merged with the Tennessee Performing Arts Center), Alaska Repertory Theatre, Buffalo's Studio Arena Theatre, Delaware Theatre Company, Totem Pole Playhouse, and Yale Repertory Theatre.While in New York, Overmire was employed by Simon & Kumin Casting as an actor to read with other actors who were auditioning for various projects. Consequently, he was involved in the casting of several Broadway shows including Brighton Beach Memoirs, Biloxi Blues, Broadway Bound, Sleight of Hand and Rags. He played opposite many accomplished actors, some of whom went on to become major stars, including Viggo Mortensen, Edward Norton, Sarah Jessica Parker, Elizabeth Shue, Patrick Dempsey, James Spader, Farley Granger, Michael O'Keefe, Helen Hunt, Penelope Ann Miller, Christine Lahti, Reg. E. Cathey, Greg Germann, Marisa Tomei, Phoebe Cates, Cherry Jones, Jeffrey DeMun, Bill Irwin, Dann Florek, Alan Ruck, Barry Miller, Fisher Stevens and Bill Sadler. Meanwhile, on the casting side of the table were prominent writers and directors including Neil Simon, Gene Saks, Gary Sinise, Stephen Schwartz, Charles Strouse, and John Guare among many others.Overmire moved to L.A. in 1991, where he served as Executive Producer of The Writer's Lab, a non-profit organization in Hollywood to promote quality writing in the entertainment industry. Many talented actors, writers and directors were involved in the Lab including Lucy Liu, Ted Lange, Debra Jo Rupp, Hill Harper, Mike Evans, Richard Schiff, Bill Cobbs, Jerry Lambert, Kevin Meaney, Robin Curtis, Kevin Kilner, Michael Kostroff, Chris Mulkey, Michael McCarty, Lawrence Mandley, Steve Tschudy, Ray Ivey, Teresa Parente, Dea Lawrence, Michael Zelniker, Becky London, Charlotte Booker, Forbes Riley, Yuri Rasovsky, Time Winters, Danny Goldring, Ilo Orleans, Steven Keyes, Anita Finlay, Fred Sanders, Dennis Cockrum, Tony Carlin, Neal Lerner, Joseph Della Sorte, Sonny Skyhawk, Morgan Sloane, Dan Berkowitz, Jim Macak, Henry Sutton and Jeanne Glynn. For over 30 years, Laurence has also been involved in teaching in the arts, designing programs for Lincoln Center Institute of New York City, Manhattan Theatre Club, Meadow Brook Theatre, Lakewood Center for the Arts and Oregon Children's Theatre among others.

He recently served as dialects coach and assistant director to Nancy McDonald in Lakewood Theatre's award-winning production of Agatha Christie's Murder on the Nile.Laurence has written three plays: Slingshot, A Woman in Washington's Army, and A Scrooge Mart Christmas Carol. The latter was produced by No Illusions Theatre to raise money for a charitable healthcare non-profit.POETRYLaurence Overmire's award-winning poetry has been widely published in the U.S. and abroad in hundreds of magazines, journals, and anthologies. Known to many for his work as Poet-In-Residence on The Jeff Farias Show, Overmire was selected as a Readers' Favorite World Poet along with Maya Angelou, Billy Collins, Roald Dahl, Alice Walker, Natasha Tretheway, Charles Bukowski and others in Modern Poetry, Anthology of Modern & Contemporary Poetry published in association with the University of Oxford (Writers & Artists Publishing, New York, 2016). The volume is utilized for teaching high school and collegiate courses in Modern World Poetry, American Literature and American Studies.Overmire's most recent book of poetry is New York Minute: An Actor's Memoir recounting his experiences as a young actor in New York City before and after 9/11. His previous book The Ghost of Rabbie Burns: An American Poet's Journey Through Scotland recounts Overmire's quest to find his ancestral roots and heritage, which according to his great grandmother Burns' family tradition includes a descent from the uncle of the iconic poet Robert Burns. As an historical snapshot in time, this journal of his experiences is part travelogue, part poetry, part history and genealogy and provides a fascinating look at the mythology and history of Scotland, its culture, its people and their aspirations in 2014 in the run-up to the referendum on Scottish independence.The Ghost of Rabbie Burns has been endorsed by lovers of Scotland from all over the world including Scottish historian Ted Cowan, University of Glasgow; the Duke of Argyll, Chief of Clan Campbell; Isla St Clair, singer/broadcaster; Steve McDonald, composer Sons of Somerled; Jock Meickle, President of The Burns Club of London; Iain H Scott, lead vocalist of Scocha; Stewart MacNeil, lead vocalist of The Barra MacNeils; Rev. Calum I. MacLeod, minister of St. Giles' Cathedral, Edinburgh; Rev. Richard Frazer, minister of Greyfriars Kirk, Edinburgh; Dr. Keith Hughes, English Literature, University of Edinburgh; Anita Scott-Philbrick, Ph.D, Deputy Chieftain, Clan Scott Society; Weeden Nichols, FSA Scot, President, Clan MacLeod Society USA; Carol Morton-Bianchini, Regent (North), Clan Douglas Society of North America; Larry Bardell, President, Oregon Scottish Society; Mark Myers, President, Clan Maclean Association of California, USA; Margaret Frost, Chairman, Scottish American Society and President of American Clan Cumming Association, Eric Bullard, President, Clan Buchanan Society International, Inc., Chevalier Dr. Gregory A. McDonald, D.D.S., K.T.J., formerly Ohio Deputy Commissioner, Clan Donald USA.He has three other books of poetry: Honor and Remembrance: A Poetic Journey Through American History (2007); Report From X-Star 10 (2009), and Gone Hollywood (2011). (See Books for more information.) Overmire began writing poetry as a way to document and reflect upon his life experiences, compiling what he refers to as a "diary in art." HIs background in the arts, rather than in academia, gives him a decidedly different perspective on the writing of poetry, one that emphasizes a right-brain as opposed to a left-brain approach and advocates complete freedom within the art form, simplicity of language, and focus on the importance of what is being expressed. Like an actor taking on different roles, his poems take on many voices and run the gamut from beat to lyric to classical in style and tone. His work is at once accessible, yet multi-layered and quite complex upon further examination. Often provocative and/or humorous in its direct confrontation of social issues, his poetry has gained quite a following among those who appreciate his down-to-earth musings on what he sees going on in our world today.Several of Overmire's peace poems were translated into Arabic and featured in the Lebanese newspaper An-Nahar. His poem "Culloden Moor" was read on the Battlefield of Culloden near Inverness, Scotland, as part of a memorial service there on Apr. 17, 2010. His poem "Ode To An Endangered Species" was produced as a video in collaboration with the Jungle Jenny Foundation.Laurence served as a judge for the Oregon state finals and semifinals of the NEA's National Poetry Out Loud Recitation contest for many years. Due to his expertise on Robert Burns and Scotland, he has been a lecturer and guest speaker for various Burns suppers, the Oregon Piper's Society and the Portland Highland Games.He is currently poetry editor for The Peregrine Muse and Poets International: Contemporary Poetry from Around the World and maintains a personal poetry page on Facebook.THE ONE IDEAIn recent years, Laurence has been focusing his energies on raising awareness of the critical issues that now confront humanity in the 21st century. He is an advocate for peace, human and animal rights, civil rights and the environment. He authored The One Idea That Saves The World: A Call to Conscience and A Call to Action (2012) as a reminder to us all of what is truly important in life. He calls this uplifting and inspirational book "a blueprint for world peace." It has been endorsed by Bill McKibben, Thom Hartmann, Raffi Cavoukian, The World Business Academy, Mona Polacca of the International Council of 13 Indigenous Grandmothers, Adele Douglass of Humane Farm Animal Care, Aaron Viles of The Gulf Restoration Network, and many others.
Following its publication, Laurence has been doing a lot of public speaking spreading his message of love and peace, that we are all one family, interconnected and interdependent upon one another for our well being.Overmire was one of the contributors to GLOBAL CHORUS: 365 Voices for the Future (2014), a collection of essays by some of the leading thinkers and humanitarians of our age, including Dr. Jane Goodall, Archbishop Desmond Tutu, Nelson Mandela, the Dalai Lama, Jamie Oliver, Dr. David Suzuki, Wendell Berry, Stephen Hawking, Maya Angelou and many more.Overmire has contributed articles to Elephant Journal and has been featured on the Green Divas Radio Show discussing important issues of the day and reading some of his poetry.Laurence is particularly concerned about the careless devastation of the planet, the extinction of species and the potential catastrophic impacts of climate change. He is a signatory on the International Declaration on the Future of the Arctic, joining Sir Paul McCartney, Emma Thompson, Jimmy Fallon, Jackson Browne, Ted Turner, Sir Richard Branson, Margaret Atwood, Naomi Klein, Wade Davis, Prof. James Hansen, Queen Noor of Jordan, Dr. Paul R. Ehrlich, and many others who deeply care about what's happening to Mother Earth.GENEALOGYLaurence is the author of five genealogy books. His most recent is Digging for Ancestral Gold: The Fun and Easy Way to Get Started on Your Genealogy Quest. Other works include: One Immigrant's Legacy: The Overmyer Family in America, 1751-2009; A Revolutionary American Famliy: The McDonalds of Somerset County, New Jersey; William R. McDonald and Abigail Fowler of Herkimer County, New York, and Their Descendants; and The McDonalds of Lansingburgh, Rensselaer County, New York: The Pioneering Family of Richard and Catharine (Lansing) McDonald and Their Descendants. (See Books for more information.) His extensive work on the Overmyers and the McDonalds of Somerset County, New Jersey, arguably the oldest branch of the McDonalds in America, has made him the world's leading authority on those ancestral lines of research.For more than 20 years, Laurence has been immersed in genealogical pursuits. When he started, the personal computer was just beginning to take off. A revolution in genealogy ensued. Whereas before, it could take months or years to obtain information through the laborious process of letter writing, paper documentation and travel, suddenly data became rapidly, sometimes instantaneously, accessible with a few clicks.The more he uncovered about his family history, the more fascinating it all became. Laurence soon discovered that he was related to a lot of important historical figures. He is a direct descendant, for example, of Gov. William Bradford and eight other Mayflower passengers, three Native American ancestral lines, England's King Edward III and Scotland's Robert the Bruce. His extensive research also revealed that he is a distant cousin of poets Henry Wadsworth Longfellow, Emily Dickinson, Robert Frost, e. e. cummings and T. S. Eliot, as well as playwrights Thornton Wilder and Tennessee Williams. The family tradition of Laurence's great grandmother, Mary Isabelle Burns Shriver, says that her Burns family was related to the poet Robert Burns. Many other Scottish clans figure prominently in Overmire's ancestry as well including Douglas, Scott, Buchanan, Pollock, Colquhoun (Calhoun), Thomson, McKibben, Matthews and Baird.Overmire is always quick to point out, however, that such relationships are not at all unusual: "The truth is that ALL of us are descended from famous historical figures and ALL of us can count numerous famous people among our relatives. In fact, we are ALL related, we are all literally cousins. DNA shows us that no matter what our skin color or ethnic background we are all descended from ancient ancestors who lived in Africa. Most people, however, have no idea how they descend and interconnect in the family tree."To help others become aware of their intriguing ancestral ties, Overmire researched many of the early immigrants to America, tracing not only their celebrated ancestors, but also the prominent Americans who descended from them. He published this work in several genealogical studies online, available for free, most notably on Rootsweb in "The Ancestry of Overmire, Tifft, Richardson, Bradford, Reed," which includes the family trees of many U. S. Presidents and European monarchs, and a host of famous statesmen, soldiers, artists, actors, writers, poets, musicians, scientists, inventors, and social reformers. As one of the pioneers in this type of research online, his work has helped hundreds of thousands of people discover their family roots and find their intimate connections to the people and events that have shaped world history.Laurence is a member of the Sons of the American Revolution (S.A.R.). He was honored to deliver the keynote address for the Overmyer Family National Reunion held in Rochester, Fulton County, Indiana, in 2009, the first Overmyer reunion of its kind in over 100 years.

He is a frequent lecturer at libraries and community organizations throughout Oregon.Laurence currently lives near Portland, Oregon with his wife, performer and educator, Nancy McDonald.
---